How to Become a Campground Host
The best way to keep full-time RVing costs in check is to reduce your RV campsite costs. There are several ways to do this: campground memberships, discount programs, boondocking, and campground hosting. I cover the first three in detail in a previous blog post, but today I'm going to share what you need to know about being a campground host.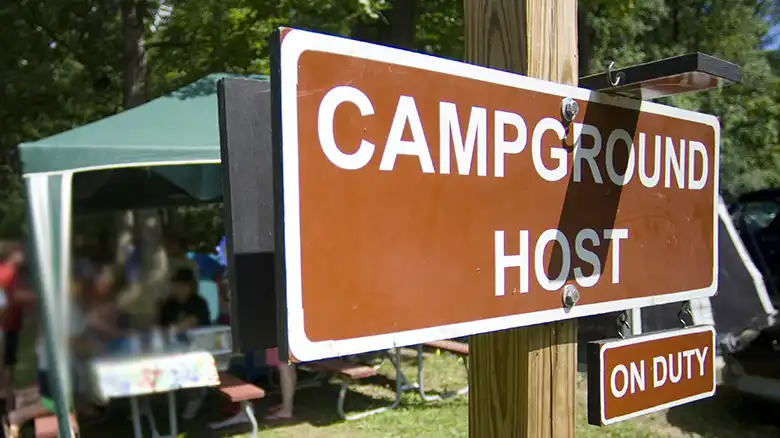 What Is a Campground Host?
A campground host is a person or a couple that works a certain number of hours per week (anywhere from 20 hours to 40 hours) at a campground or RV park in exchange for a free campsite.
Campground hosts are seasonal employees; these aren't long-term contracts. Campground managers perform some of the same duties as campground hosts, but they are long-term paid positions.
How Much Money Do Campground Hosts Make?
Campground hosts are usually volunteers. Often, the only form of payment is a free campsite. The campsite usually has water and electricity and sometimes (if you are super lucky) a sewer.
Some campground hosts do receive a small hourly wage (usually the state's minimum wage). If you need a paid position, make sure to search accordingly and read the job description very carefully.
What Are Campground Host Duties?
Campground host duties vary depending on the needs of the campground or RV park.
Typically, campground hosts will –
Clean Bathrooms
Clean Campsites
Register Campers
Answer Visitor Questions
Work Concessions
Work in Campground Shops
Monitor camper activities and report issues/rule-breaking to management or rangers
When Do Campground Hosts Work?
Campground hosts work various shifts and hours depending on the park and host duties.
Some campground hosts have set hours and schedules, while others are very flexible.
You will know what is expected from you before you begin. If you have any questions, make sure to reach out to the park rangers, managers, or owners as soon as possible.
NOTE: Almost all hosts work weekends and during peak camping seasons.
How to Find Camp Host Jobs in State Parks?
State parks throughout the country are looking for campground hosts for their open seasons. Some larger parks might have multiple hosting openings.
If you aren't sure where to start, you can click here to easily find a state park near you (or wherever you would like to go).
Once you have selected a state –
Go to the particular state's park website.
Find either the search function and enter Campground Host.
OR scroll all the way down the page and click on the Volunteer link.
Once you have found the Campground Host section, you will be able to find parks that are accepting volunteers and begin the application process.
How to Find Camp Host Jobs in National Parks?
National parks also have campground host volunteer positions available.
If you are an artist, the National Parks Service has an Artist in Residence program. Not only can you work on your art, but most of them include lodgings! You can find out more about the Art-In-Residence program here.
If you aren't sure where you want to camp host, searching Indeed could be a good starting point. I found various positions that were both paid and volunteer and of varying lengths.
Workamper News
This website is a really great place to start if you don't know where to start. The site lists various jobs from all over the USA and Canada. They offer training, informational articles, resume builder, and more. Workamper News is a good resource for anyone looking for campground hosting and other working positions.
Wanted Ads on Workers on Wheels
Workers on Wheels is a site that lists jobs available throughout the USA and Canada. Wanted ads are updated frequently and post various positions, including paid employment, work-for-site exchanges, and volunteer positions.
Campground Host Tips for Parents
Before working as a campground host, the campground or RV park management needs to know if you have children. Not every camp host position will fit the needs of a family. For easier understanding, read the following two sections.
Hosting with Younger Children
If you have younger children, make sure someone is caring for your children while you are working. This might not be an issue if you are camp hosting with another adult and have alternating schedules or if only one of you is the camp host. What happens if you both are hosting during the same hours or you are hosting alone?
Hosting with Older Children
What about older kids? Will you leave them in your RV, or will you bring them with you? Some camp host duties will allow you to bring your children along, but others won't. Some camp host sites are marked with a sign, so campers and visitors know who to talk to during their stay. How will your kids react to a knock on the camper door from strangers while you are away performing your duties?
Can a Campground Host Have Another Job?
Yes, you can be a campground host and work another job. However, the campground or RV park manager/ranger needs to know. Even if you have another job, you will still need to perform your camp host duties.
If you have a flexible job or a flexible campground host position, it shouldn't be a problem at all.
If your job is not flexible or the campground host position is not flexible, it could be a problem.
Make sure you don't commit to something that you cannot do.
Pros of Campground Hosting
There are certain benefits of campground hosting. Here are them one by one –
Zero Camping fees
You get a free campsite. It is often pretty nice and has full hookups. We were campground hosts for 3 months, and that saved us about $1300!!
Helping Fellow Campers
There is nothing quite like helping others, and campground hosting gives you that opportunity.
Behind the Scenes Extras
As a campground host, you will get to experience the park/campground uniquely. You will have access to areas restricted to visitors (some cool, like the ability to explore long-closed off-trails, and some lame things, like the maintenance closet).
Access to Cool Stuff
Utility Vehicle, yes, for picking up garbage and distributing wood, but still very cool and fun to drive. It makes the work so much easier, especially during inclement weather or when you are not feeling 100%.
New Found Appreciation for Others
I will never frown when walking into a dirty bathroom again. After being responsible for one for 3 months, I now know that it takes just one person to trash a bathroom, and the person cleaning the bathrooms may not know until they arrive hours later.
Cons of Campground Hosting
You Are Stationary for Months at a Time
Hosting positions typically run for 3-6 months. During that time, you must remain at the campground. You can, of course, explore the area, but you cannot overnight somewhere else. In addition, you must be available on the weekends and at peak times.
You Are working
This is obvious, but I must emphasize that you need to be outside or work when the weather is bad.
You may be the one that has to unclog the toilet(s) and empty the nasty, nasty trash.
People
Ah yes, even if you are only responsible for cleaning the campsites, you will quickly find out that some people do not respect nature or follow the rules. You will find trash in fire pits and strewn about the campground.
Some campers will not respect that you are not 'on duty' 24hrs… When the gates close at 10 pm, that's it; the gates close at 10 pm. You are not a gate concierge at 1 in the morning. Park it outside the gate and get your car in the morning!
You May Want to Know…
Can I do campground hosting with disabilities?
If you have disabilities, you can still be a campground host. The RV Park/campground manager/ranger must know about your disabilities beforehand. Make it very clear what your needs are so that you are assigned the appropriate duties.
If you have any questions or concerns about the physical requirements needed for campground hosting, reach out and ask.
How to find campground hosting positions in Georgia?
We found Georgia State Park volunteer positions via this link. The site described some of the expected duties for various position listings and openings and available dates.
A background check is required for all volunteers. As an applicant, you are required to pay for the check ($15/ applicant). The check is valid for 3 years.
Volunteers also have to register yearly, and the cost is $15/per applicant.
We only paid for the background check; there was no additional fee to register.
Final Thoughts
Being a campground host is not for anyone, but it can be a really fantastic way to save money while on the road. Some RVers are serial campground hosts, making their way across the country one campground at a time.
So, do you think you will try campground hosting? Let us know what you think!