How To Block Up A Fifth Wheel (Steps Guideline)
Having a trailer RV is something different than an all-in-one type. You can detach it and place it somewhere, making it look like a home almost.
And sometimes, it is what you want. To turn your home on wheels into a permanent one.
But there's one problem. You have a fifth wheel that doesn't let the trailer be stable. So how to block up a fifth wheel and make it a permanent solution?
Well, a few cinder blocks around the trailer along with plywood/wood planks, you can do that with ease. We are going to walk you through the steps today.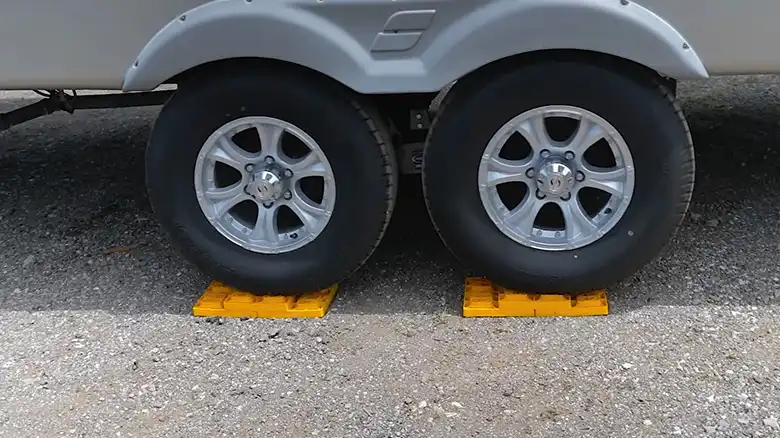 Steps To Block Up A Fifth Wheel | A Permanent Solution
Although it might sound like a lot of work blocking up a fifth wheel, in reality, it isn't. With a bit of muscle, precision, and safety, you can turn your fifth wheel into a stabilized permanent resident. In order to do this, there are a couple of things you will need.
Things you will need:
Cinder blocks.
Plywood/wood planks.
Level.
A jack (optional)
Step 1: Make Sure It Is On Level Ground
The first thing to do is make sure that the RV is on level ground. Use a water level to check the RV if it is. Then make sure the fifth wheel is also on a level ground.
Step 2: Place Cinder Blocks All-Around
When everything seems good and leveled, start placing cinder blocks all around the RV. Make sure they are under the frame, not the body. Place them 7-8 ft apart.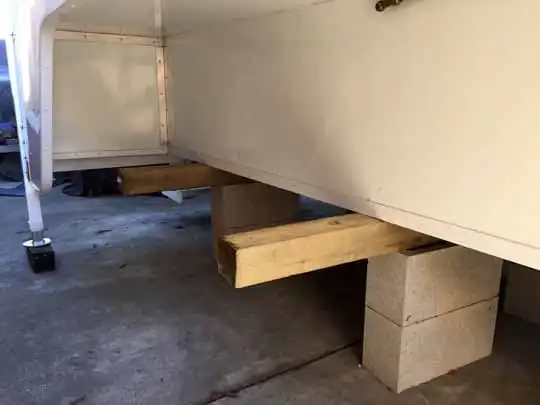 Step 3: Place Wooden Planks Or Plywood Along With The Cinder
When you are done with placing the planks, make sure you install some plywood or wooden planks on top of the cinder block. Let it work as a barrier between the RV and the cinder block so it doesn't damage the frame.
Step 4: Reinforce Extra Blocks And Planks On The Fifth Wheel
You have to make sure that the fifth wheel doesn't tilt around. So place some extra cinder and planks under it.
And you are done. Now your fifth wheel is all blocked up. It's not going to move.
Note: Use a jack to lift up the frame of the RV so the cinder and wood planks can be placed perfectly. Do not overcrowd with cinder though, as it might damage the chassis.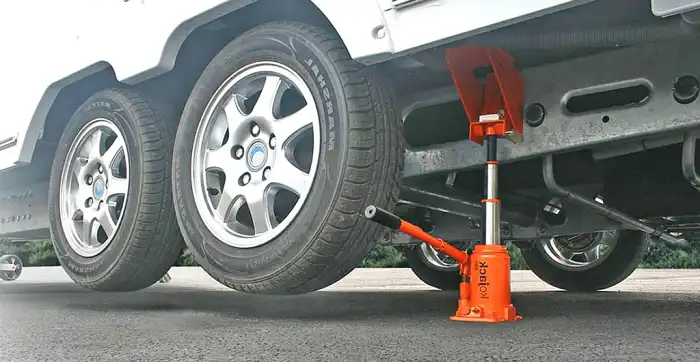 Pro Tip:
If you are paranoid about the RV tilting, you can install some slide-out stabilizers around your fifth wheel. This will give the RV extra protection and peace of mind for you.
Frequently Asked Questions and Answers – FAQs
How do you put an RV on a block?
You can put an RV on a block by lifting it up with a jack. But make sure to place a wood plank in the middle so it doesn't damage the RV frame. And the blocks should be placed right under the frame, not the body.
How does a fifth wheel locking mechanism work?
The fifth wheel locking mechanism works using a sliding deadbolt to lock the trailer kingpin from the throat. It is spring-loaded.
What causes 5th wheel chucking?
Your 5th wheel can chuck if the hitch does not fit. This makes the hitch jaw and kingpin not come together hence the chucking.
Conclusion
Making a fifth wheel a permanent outside playhouse, hangout place, a small restaurant, or even just a home has been in style forever. So make sure you do it correctly not leaving any loops. Because in the end, you will be unsafe, which nobody wants.